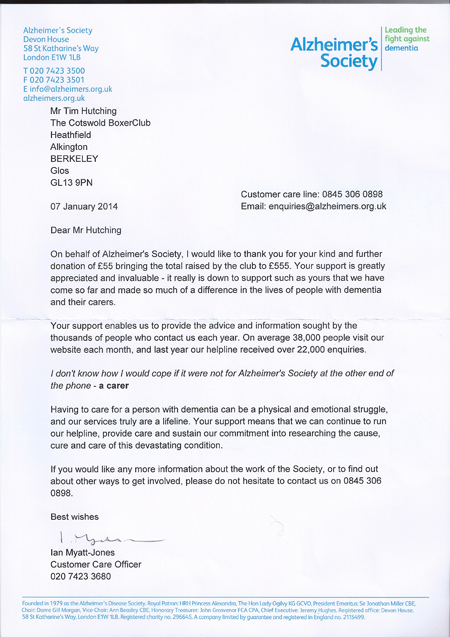 THE GRAND TOTAL FROM THE COTSWOLD BOXER CLUB "CHARITY INSTEAD OF CHRISTMAS CARDS" WAS £550 WHICH HAS BEEN SENT OFF TO THE ALZHEIMER'S SOCIETY. MANY THANKS TO THE KIND BOXER FOLK, LISTED BELOW, WHO CHOSE TO MAKE A DONATION INSTEAD OF SENDING CARDS. HAPPY CHRISTMAS!
Liz Adam
Marion & Steve McArdle
Liz & Nigel Rallings, Zenmaxkay Boxers
Rob & Andrea Wimbush, Redmol
Helen & Eddie Banks
Brenda & Steve Hare
Mairi Wynne-Eyton
Val Jackson
Jackie & Pete
Ann Bee
Malcolm James
Leigh Edgeler
Barbara & Godfrey Morison
Shelly Harris, Petarris
Vicky Bell
Sue Burnett
Pat Heath
Julie Brown
Carol Chippendale
Denise, Desnie and Jeannine Pye
Chris & Eric Hancock
Lisa Murray & Gavin Brough
Sam & Kevin Frary
Lorraine Ames
Kevin & Fiona Godwin
Pam Broughton
Viv & Danny Matthews
Janice Myles, Boxadore
Sue & Graham Mullis
Wendy Mitchell
Tom & Veronica Stockdale
Marian & Gordon Seeney
Sue Drinkwater
Newlaithe – Christine & Vikki
Sheena Peck
Linda & John Carnaby
Veronica & John, Sugarwood
Nadine, Ash and Angus Slattery
Merry Xmas from all at Manic
Ann Isaac
Walker & Yvonne Miller, Walkon
Mary Foan
Tim Hutchings
Ton, Jean and Charlotte, Roylark
Fearn Pynegar
Mitch Griffiths
Maureen Wragg
Sarah Portlock
Steve Gething & Derek McCarthy
Lesley Wearing
Sally Chell
Eileen Kelly
Sue Hale
Mandy Vearncombe
Sue & Andrew Malcolm
Gaynor & Kevin Jones
Cathie & Catherine Thomson
Lorna & Colin Walker
Debbi, Ashley and Joe Huggins
Glynis Taylor
Linda Lay
James Whitfield & Sarah Turner
Doreen Greaves
Tobie James & Martin Bearryman
Janine Gibson & Penny Millard
Kian Pellow & all at Rosanyos
Pam & Ivan Smith
Stuart & Tony & all at Shiloh
Paul & Tina Russell
Sally Shapland


In 2012 we supported the Breast Cancer Campaign since too many Boxer folk have suffered from this disease over recent years.
On behalf of all those generous people named below, we were able to send off £710 to the Breast Cancer Campaign which is a wonderful total
The people listed below want to wish you all a VERY HAPPY CHRISTMAS but wanted to donate to this very worthy cause rather than send Christmas cards.
CHRISTMAS CARD CHARITY COLLECTION 2012

Linda and Martin Esders
Ruby & Mike Spanswick
Laura & Darcy Clark
Eric & Pat
Julie, Mick & Claire - Manic Boxers
Sue P-B
Andrea and Rob - Redmol Boxers
Maureen Wragg
Lanfrese Boxers
Yeteb Boxers
Taranut Boxers
Jeddhi Boxers
Mairi Wynne-Eyton
Stewart Copeland
Linda Lay
Glynis Taylor
Nigel & Liz Rallings
Graham & Sue Mullis
Carol Murfin
Roland & Yvonne Cherry
Margaret Rose
Newlaithe - Vikki & Christine
Gaynor & Kevin Jones
Wendy Mitchell Diceulon
Shar & Kev Mydaz
Sheena Peck – Enesha Boxers
Steve & Brenda Hare
Cathie and Catherine Thomson
Christine Breakspear
Sian Bredif
Sarah Portlock
Debbie, Ashley and Joe Huggins
Sue Lott
Veronica & Tom Stockdale
Angus and Nadine Slattery
Leigh Edgeler
Rita & Bob Williams
Ann Bee
Liz Adam
Marion Seeney
Jackie Drew
Pye Family
Susancar Boxers
Veronica Feaver
John Cormack
Tim Hutchings
Kian Pellow and all at Rosanyos
Viv Matthews
Jean & Tony Watson and Charlotte Roylark
Lorna and Colin Walker
Carol Chippendale
Julie Davis
Jill Downing
Chris Cobb
Lesley Wearing
Lorraine Ames
Sally Chell
Margaret Tomlin
Pam Smith
Mary Foan
Jenny Stewart
Gemma Stockton
Doreen Greaves
Malcolm James
Joanne Cole
Sarah Cardwell
Sue Malcolm
Fearn Pynegar
Marion and Steve McArdle
Julie Brown
Mandy Vearncombe
Janice Myles
Pat Heath
Sue and Brian Burnett
Tony Curtin and Stuart Lockwood-Brown
Linda and John Carnaby
Sally Shapland
Jane Lovell
Godfrey and Barbara Morison
Eileen Kelly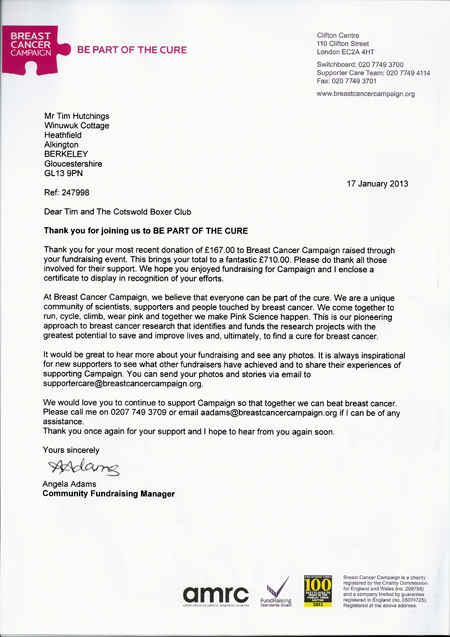 In 2011 we supported the Motor Neurone Disease Association since one of our members has been diagnosed with the disease and she has found this charity to be a wonderful support.

On behalf of all those generous people named below, we were able to send off £650 to the MNDA which is a wonderful total
The people listed below want to wish you all a VERY HAPPY CHRISTMAS but wanted to donate to this very worthy cause rather than send Christmas cards.
Pat Heath
Jean & Tony Watson
Tony & Stuart 'Shiloh'
Susan Lott
Susancar Boxers
Aimi & Jamie 'Heybotts'
Karen Turner
Desnie, Denise and Jeannine Pye
Jenny Stewart
Martin Bearryman
Tobie James
Sarah Cardwell
The Moye Family
Sue & Graham Mullis
Liz & Nigel Rallings
Greg Dowell
Sandra Huckerby
Joe Smith
Fiona, Kevin & Louise Godwin
Jane Lovell
Nicola Beaumont
Linda Owen
Sharon & Kevin Fitzgerald
Carol Schofield
Tim Hutchings
Lesley Wearing
Brenda & Steve Hare
Carol Chippendale
Jackie & Pete 'Hollyn'
Maureen Wragg
Tom & Veronica Stockdale
Sian Bredif
Doreen Greaves
Eric & Chris Hancock
Debbi, Ashley and Joe Huggins
Veronica Feaver
John Cormack
Steve and Derek 'Jeddhi'
Sue & Andrew Malcolm
Betty McDonald
Sue Poole-Bartlett
Angela & John Huxley
Joanne Cole
Yvonne & Walker Miller
Wendy Mitchell
Lorna & Colin Walker
Sarah Portlock
Ruby Spanswick
Richard Purser-Willmott
Ann Isaac
Jan Myles
Mandy Vearncombe
Sue Hale
Leigh Edgeler
Christine Breakspear
Laura Clark
Viv Matthews
Linda Carnaby
Eileen Kelly
Kevin & Gaynor Jones
Val Jackson
Rita & Bob Williams
Angela Harper
Julie Brown
Mitch Griffiths
Julie Cook
Chrissie and Vicki 'Newlaithe'
Mary Foan
Barbara & Godfery Morison
Yolanda Tonkin
Marion & Gordon Seeney
Pam & Ivan Smith

(If I have inadvertently missed anyone off, please do let me know)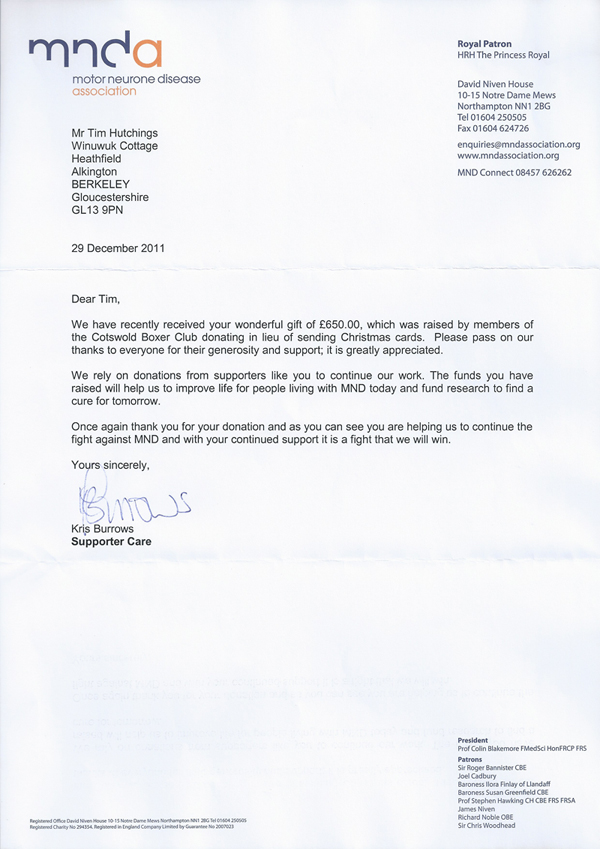 In 2010 we supported CLIC Sargent as our nominated cause since it had provided such wonderful help and support to club member Yolanda Tonkin when her little boy had to spend so long at Bristol Children's hospital having his treatment for leukaemia.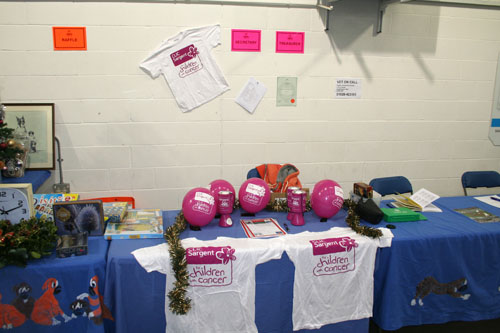 The grand total raised was £444 which, with gift aid, will be worth £568.32 to the charity.
The following kind Boxer folk donated
Steve Hare and Brenda Groves
Julie Brown and Tim Hutchings
Dave and Annette Rushton
Betty McDonald
Veronica Feaver and John Cormack
Walker and Yvonne Miller
Cathie and Catherine Thomson
Mary Foan
Kevin and Gaynor Jones
Sue and Graham Mullis
Janice Myles
Carol Schofield
Margaret Tomlin
Ann Isaac
Liz and Nigel Rallings
Carol Chippendale
Calum, Jane and Lauren Mackay
Desnie, Jeannine and Denise Pye
Fiona, Kevin and Louise Godwin
Roland and Yvonne Cherry
Steve Gething
Tracey Dawson and Jonny Boardman
Barbara and Godfrey Morison
Rob and Andrew Wimbush
Sahron and Kevin Fitzgerald
Doreen Greaves
Ann Wildman
Frank and Margaret Wildman
Ruby and Mike Spanswick
Jenny and John Stewart
Lorna and Colin Walker
Laura Clark
Sian Bredif
Christine Breakspear
Pam Horsell
Julie Cook
Mandy Vearncombe
Sue and Andrew Malcolm
Karen and Graham Turner
Richard Purser-Willmott
Deb, Ashley and Joe Huggins
Chris Cobb
Irene Thorpe
Jill Downing
Fearn Pynegar
Viv Matthews
Julie Slade
Joanna Cole
Leigh Edgeler
Maureen Wragg
Tony and Jean Watson and Charlotte Crooks
Pat Heath
Pam Smith
Tony Curtin and Stuart Lockwood-Brown
Rita and Bob Williams
Nadine and Ashley Slattery
Linda and John Carnaby
E/mail from CLIC Sargent thanking us for the donation
Dear Mr HUTCHINGS,
Thank you so much for your generous gift.
Your contribution will make a real difference to the lives of children with cancer and leukaemia across the UK. Please accept our thanks on their behalf.
As you may know, over the next 24 hours, 10 children and young people will be diagnosed with cancer. Your continued support will help ensure that we can continue to provide our much-needed services to them.
If you would like more information about CLIC Sargent, please call the Supporter Care Line on 0845 120 44 42. If you would like a thank you letter via the post, please email: supporter.services@clicsargent.org.uk.
Once again, thank you so much for your support. It really is appreciated and will make a huge difference to our work and the lives of children and young people with cancer.
Yours Sincerely
Lucy Caldicott
Director of Fundraising
www.clicsargent.org.uk
Charity Registration Number: 1107328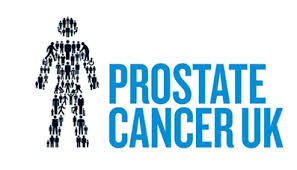 Julie Cook came up with the great idea in 2009 of having a charity collection among exhibitors at our December Championship Show instead of sending each other Christmas Cards. The first charity chosen was "The Prostate Cancer Charity" and the grand total of £450 was raised
Exhibitors who donated signed a special book and those taking part were:
Tony & Jean Watson
Tim Hutchings
Doreen Greaves
Ruby Spanswick
Sue Hall
Julie Brown
Marion Ward-Davies
Sam Frary
Sue & Andrew Malcolm
Karen & Graham Turner
Mark Skinner
Rita & Bob Williams
Joy Malcolm
Glynis Taylor
Lorna & Colin Walker
Andrea & Rob Wimbush
Sue Drinkwater
Mandy Vearncombe
Sue Hale
Jan Myles
Jackie Drew
Chris & Eric Hancock
Julie & Mick Cook
Steve Hare & Brenda Groves
The Mair Family
Steve Gething
Carol Schofield
Helen & Eddie Banks
Lesley Bryan
Bruce & Jo Cattanach
Lix & Nigel Rallings
Linda Carnaby
Fearn & Adrian Pynegar
Tracey, Chris & Dylan Brian
Tracey Dawson & Jonny Boardman
John Cormack & Veronica Feaver
Keith Jump
Suzanne & Sandra Carter
Pat Heath
Stewart Copeland
Jane, Callum and Lauren Mackay
Rodney Hughes & Sue Harvey