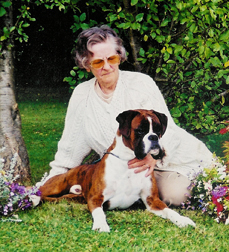 President: Mary Foan
Mary lives in Middleyard near Stonehouse and has been on the Cotswold for many years, also being a life member of the Club. Mary has the Ymar kennel which has made up a couple UK Champions, Ch Ymar Right Royal Raver in the 80s and Ch Ymar Admiral of the Fleet in the 90s. Mary had the honour of judging at Crufts a couple of years ago.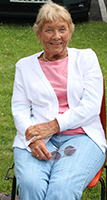 Vice-President: Rita Williams
Rita has been an active supporter of the club for many years and she showed her Boxers very successfully under the Willrait affix together with her late husband Bob. She made up several lovely champions. Rita judged Boxers at Crufts in 2009. Rita lives in Lower Wick in Gloucestershire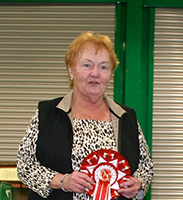 Vice-President: Pam Broughton
Pam has been an important figure on the local Boxer scene for many years. She showed many Champion Glenfall Boxers together with her late husband Ken. Pam judged Boxers at Crufts in 2008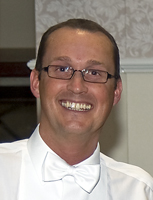 Secretary: Tim Hutchings
Based in Chepstow, Tim took over as Secretary from Marion over 30 years ago and he is now the longest serving Championship Show Secretary in the UK. During his time as Secretary he has also represented the Club at Breed Council, serving as its Chairman for two years. In partnership with Julie Brown he owns the famous Winuwuk Boxers which have won 300 CCs and many Top Boxer awards to date. He is also joint owner and editor of the Boxer Quarterly magazine.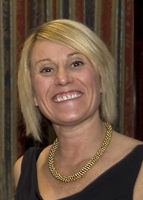 Treasurer: Julie Brown
Julie was appointed Treasurer in 2007. She has been on the Committee for 25 years and for a lot of this time she has run the Cotswold Boxer Rescue service. She owns the famous Winuwuk Boxers in partnership with Tim Hutchings and is widely acknowledged as one of the best and most successful Boxer handlers in the UK, most famously piloting Ch Winuwuk Lust at First Sight to win the working group at Crufts 2009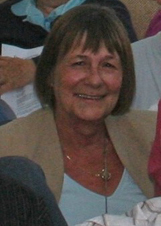 Chairman: Lesley Wearing
Lesley lives in Banbury. She has been on the Committee for a number of years. She shows her Boxers under the Miofrey kennel name and, in partnership with one-time Committee member Val Moss, she made up Ch Tyegarth Pink Pussycat in the 90s. Lesley is a Championship Show judge